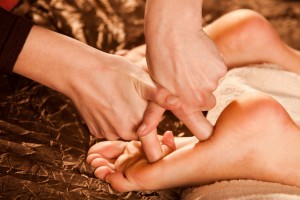 Elemental Reflexology is an energy-based form of reflexology which combines the energetic principles of Polarity with the ancient healing art of Ayurvedic Reflexology to balance and restore energy to the whole body by working with the bio-energetic currents of the feet.
Clients describe it as a more gentle and effective form of reflexology.  It incorporates energetic touch and energy balancing with the point-specific techniques of traditional reflexology.
Elemental Reflexology is thoroughly relaxing and highly effective in improving many health conditions, including:
Pain Relief
Headaches
Sense of Inner Peace
Deep Relaxation
Feeling Centered & Balanced
Sleep Disorders
Increased Energy & Focus
Sports Injuries
Stress-related Conditions
With a wide range of touch, from very deep to feather light, Elementary Reflexology is suited of everyone, regardless of age or physical condition.
Book online here